The Fun Bunch
September 27, 2023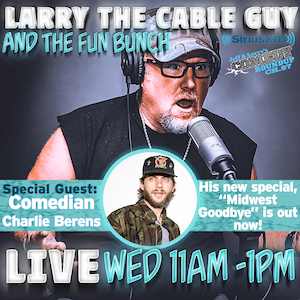 It's an all new episode of Larry the Cable Guy and The Fun Bunch on SiriusXM! Join Larry and the gang on Jeff and Larry's Comedy Roundup channel 97 for all the week's news and conversation. This week's guest is comedian Charlie Berens. Charlie is a New York Times Bestselling Author, Emmy-winning journalist, musician and in 2017, Charlie began hosting his weekly comedic online news show, the Manitowoc Minute. Since then, Charlie's been creating Midwest-focused sketch comedy videos on his social media platforms. He's also traveled the country with three sold out stand-up comedy tours. Charlie's first book, The Midwest Survival Guide, was released in 2021 and immediately became a New York Times Best Seller! Charlie also hosts the Cripescast podcast where he interviews musicians, artists, comedians, creators and more to talk about their story and connections to the Midwest. Check out Charlie online at CharlieBerens.com and on Instagram at @CharlieBerens.
LIVE on Wednesday at 11am (EDT)
Replay on Friday at 10am and 6pm
Saturday at Noon and Sunday at 7am
---
New from Chad Thornsberry
July 7, 2023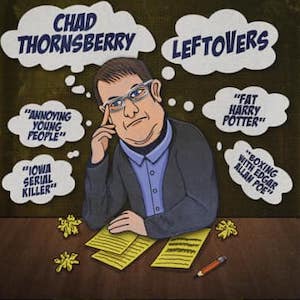 From Git-R-Done Records, it's the brand new album "Leftovers" from Chad Thornsberry! Available today on your favorite streaming service or wherever you purchase audio and entertainment. Click Here!
Follow Chad on Instagram at ThornsberryComedy
---
New from Nick Hoff
August 25, 2022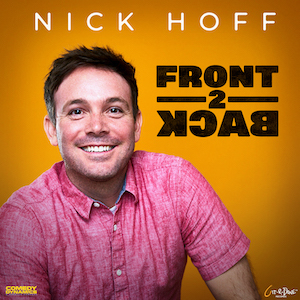 From Git-R-Done Records, Nick Hoff jokes about bad parenting, the dangers of relationships, and every man's wildest fantasies. "I am happy to be working with this team again. This album is the product of me chasing a dream for the last 15 years. I hope you find it to be worth the endeavor." You can watch the new special for free on Nick's YouTube Channel and streaming on Sirius XM, Apple Music, Amazon Music, Spotify, and Pandora.
---
Country Soul
May 20, 2022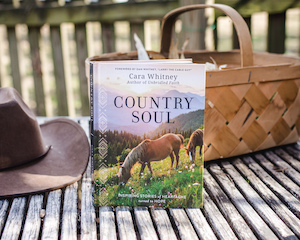 Country Soul is my wife Cara's latest book and she shares how God is faithful-both in good times and bad. Refresh your soul with the inspiring stories found in Country Soul.
It's filled with heartwarming stories about people from all walks of life who have turned heartaches into hope and setbacks into victory.
---